ACHTUNG: This is a looonnnggg TR covering snowboard and ski related adventures from the last 12 months in New Zealand with lots photos of varying quality and some photos that don't contain any riding or snow in them at all. The better photos aren't mine.... Grab a coffee/beer, put your feet up and read on if you dare.............Alternatively, if you're pressed for time or just can't be assed, check out a briefer photo summary over here
http://splitboard.com/talk/viewtopic.php?f=5&t=15494
The 2012 NZ winter saw me and my buddies a little bit light on the money side of things after spending a season in Canada. Not wanting to miss out on the season back here in Godzone we decided to have a crack at doing a season of touring to save some money. Taking some inspiration from the turns-all-year guys in the Pacific NW in the USA, our season of touring evolved into a crazy mission of attempting to ride year round which (in our definition) involved getting as many turns in as possible at least once a month for 12 consecutive months in New Zealand. A side challenge was to explore as many new places that we hadn't been to as well. I've tried to keep it brief but here are some highlights for each month from May 2012 through to April 2013.
May 2012 – First snow of year
Things got under way pretty quick, with our first turns scored in May 2012 on the Cragieburn Range at the ever reliable Tarn Basin. A bit of an interesting skin up the snow filled roadside ditch got us up to the basin filled with snow just deep enough to ride. 30 cm of baseless powder on rocks makes for some conservative riding. Gentle bumps from buried rocks warned not to carve a turn too deep.
Our first NZ turns of the year!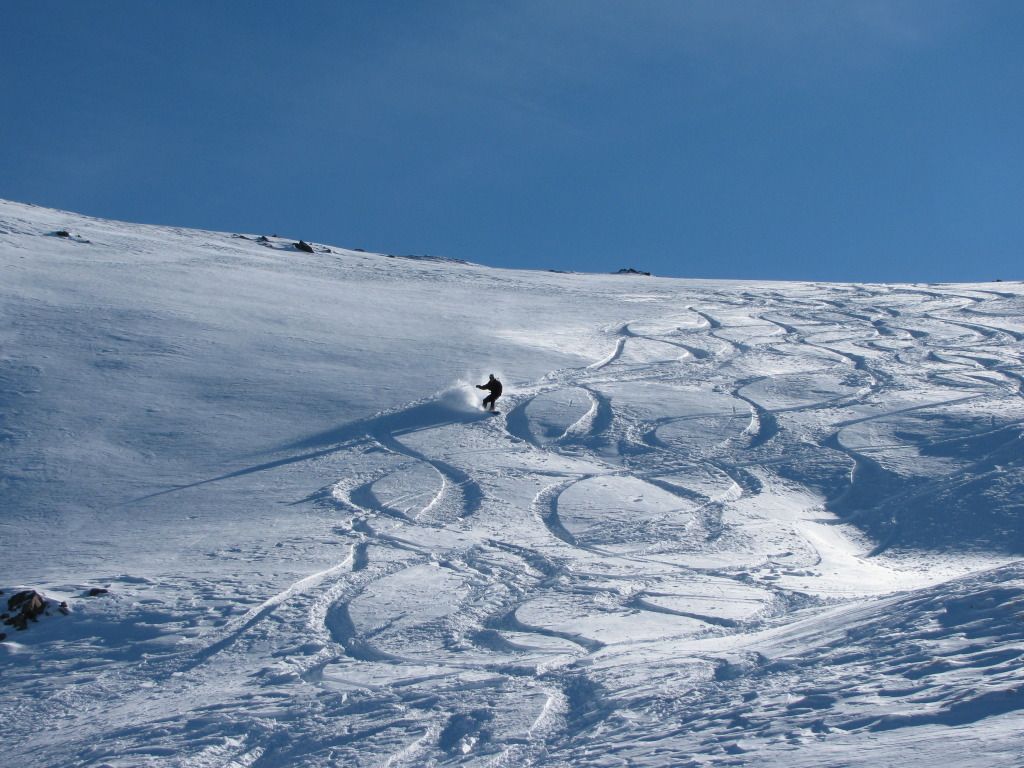 Scotty ripping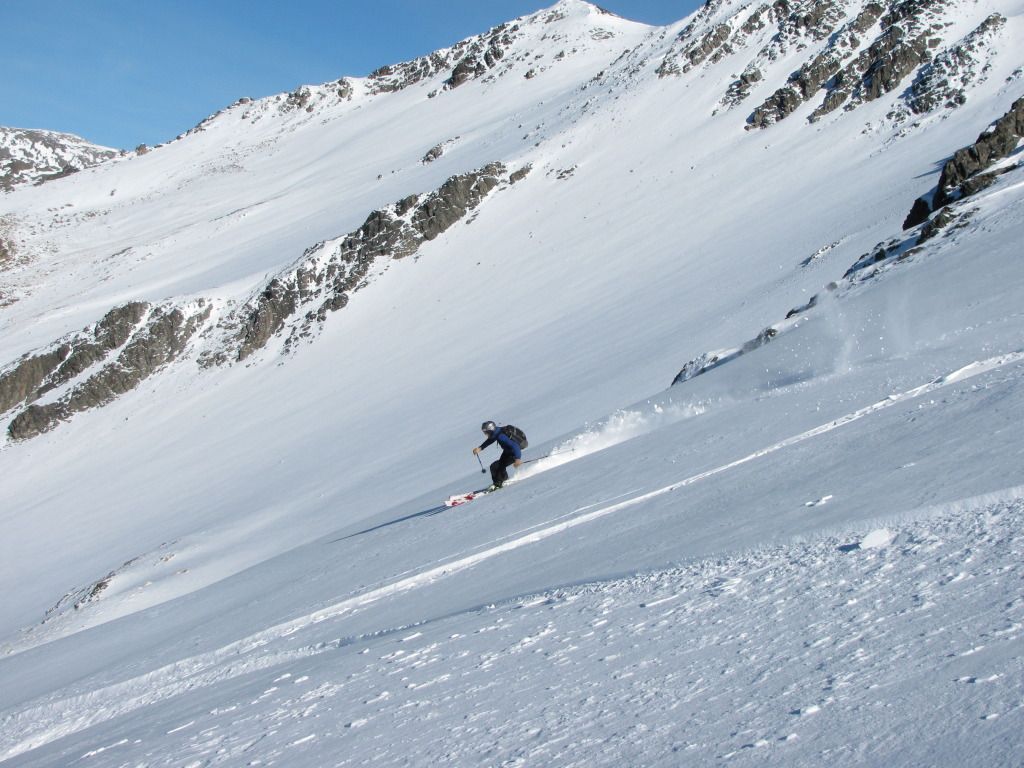 June 2012 – The season gets under way
The start of June saw us visit Arthurs Pass to check out Avalanche Peak along with other day trips to the Craigieburn Range before a big storm came in and dumped in the mountains. A weekend trip up with a mates car to take advantage of this dump in the Craigieburn Range saw us forget the chains and resulted in us having to start skinning from an elevation a lot lower than expected. This in turn, worked to our advantage as we decided to check out a zone that none of us had been to before since it was closer than our original planned destination. Turned out to be so good we ended up heading back a couple of weekends later and camped there to score some lines off the ridge and Mt Cheeseman proper.
Rich riding off Avalanche Peak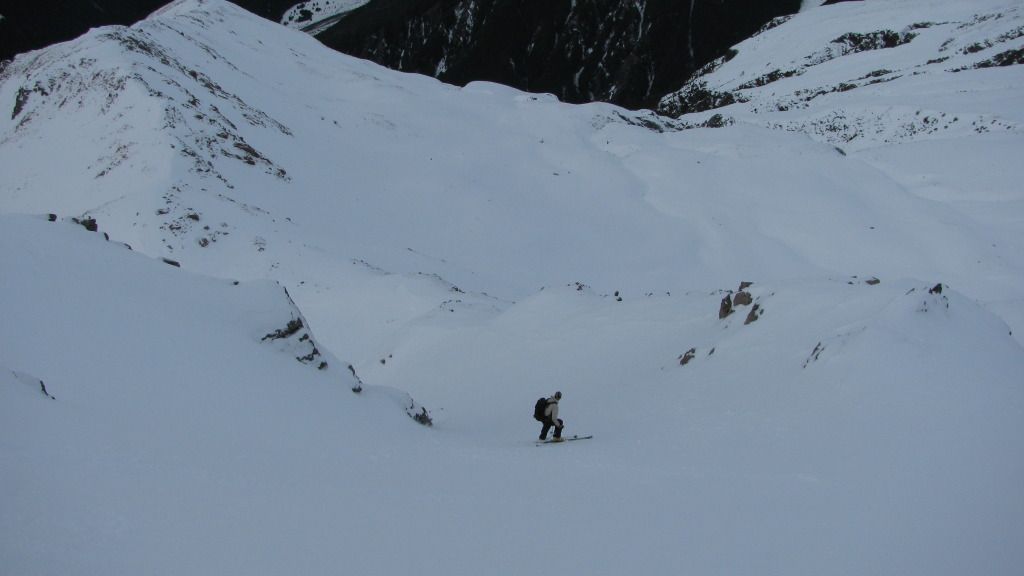 Camp with the Torlesse Range behind

Riding off Mt Cheeseman Proper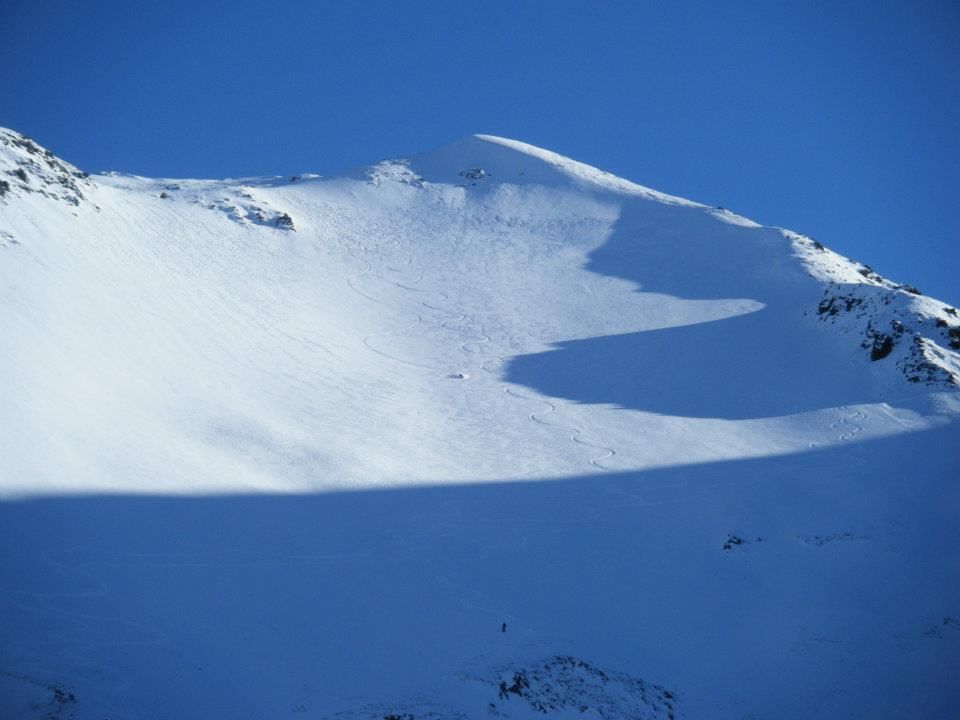 (Photo - Todd Anderson)
July 2012 – Backyard discovery
Looking for new zones we checked out a bunch of areas close to the club fields (Craigieburn Range) we hadn't visited before and resulted in some super fun lines we didn't know about, including a rock wall lined couloir off the Mt Wall ridge. A couple of icy trips to Mt Enys went down as well.
Down we go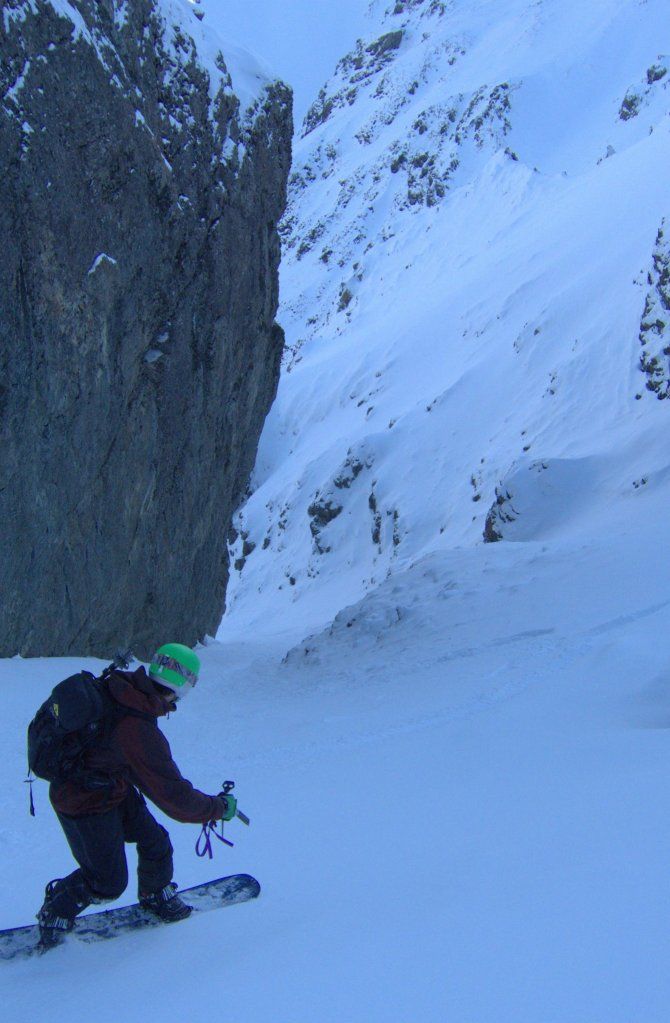 (Photo - Ben Scott)
Scotty nearing the exit of the coulior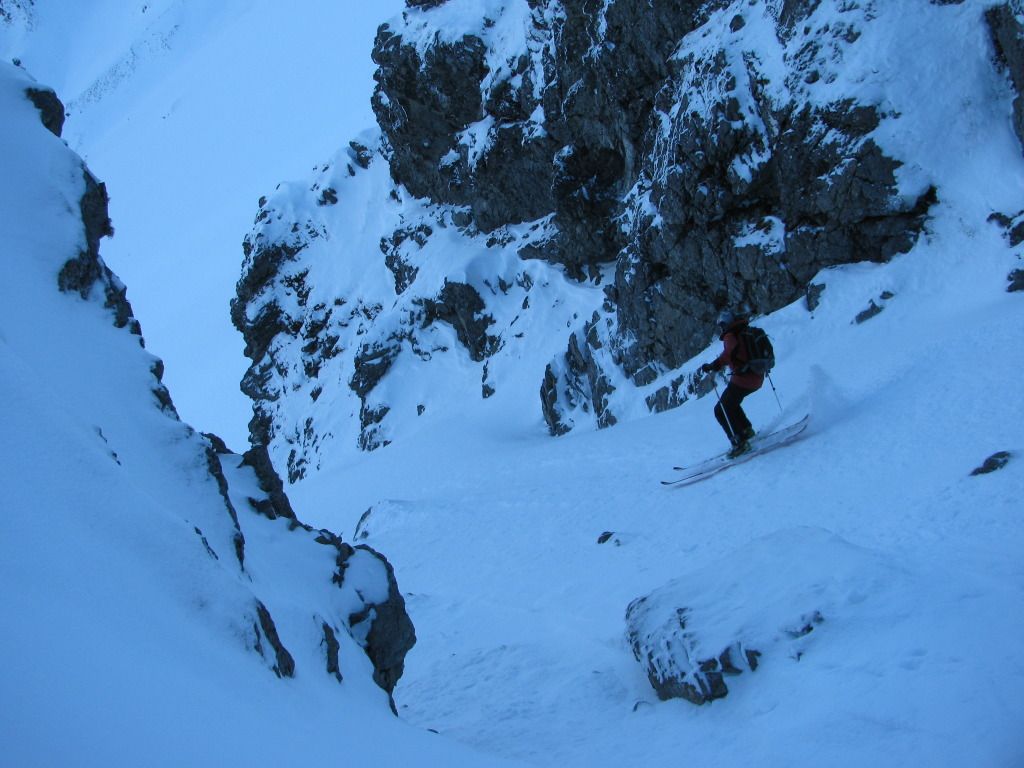 Transition time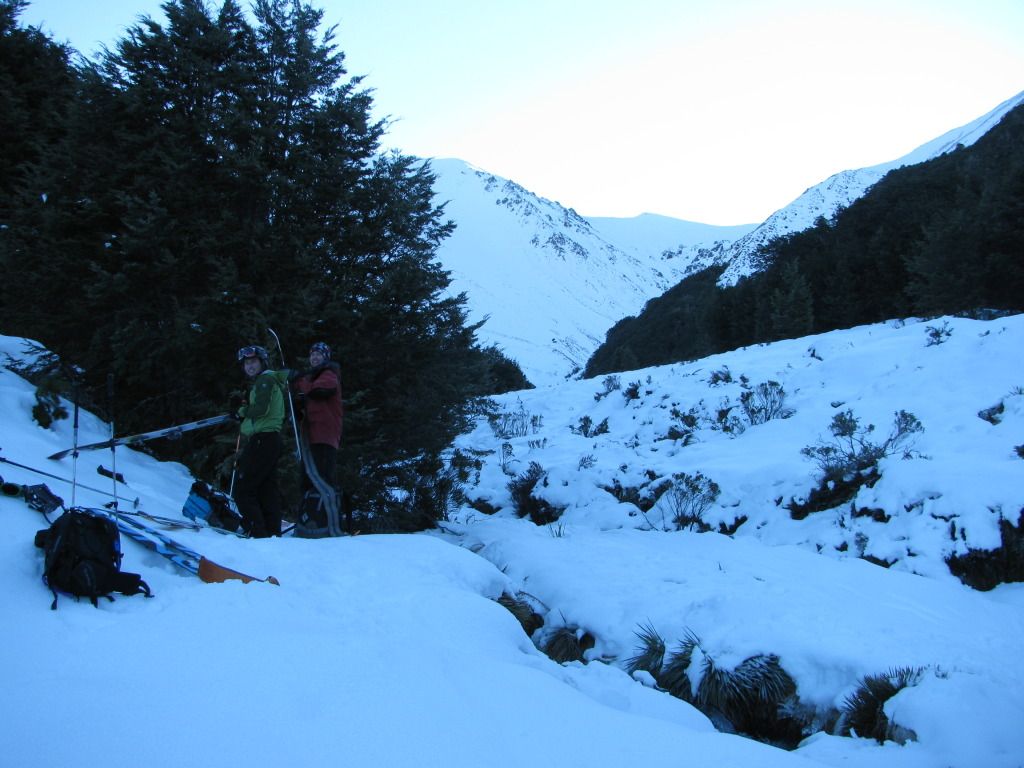 Mt Enys, Craigeiburn Range

August 2012 – New zones down south
More snow in June allowed us to grab some turns down a couple of fun lines we had seen last month but it had been too icy to ride at the time. Some mid season chat with some buddies down in Southland had convinced me to link up with them and ride some mountains down south. This saw an overnight trip one weekend down to the Eyre Mountains on the Southland / Otago border. Very cool zone that needs more exploring..
Typical sight on a winter approach in Southland...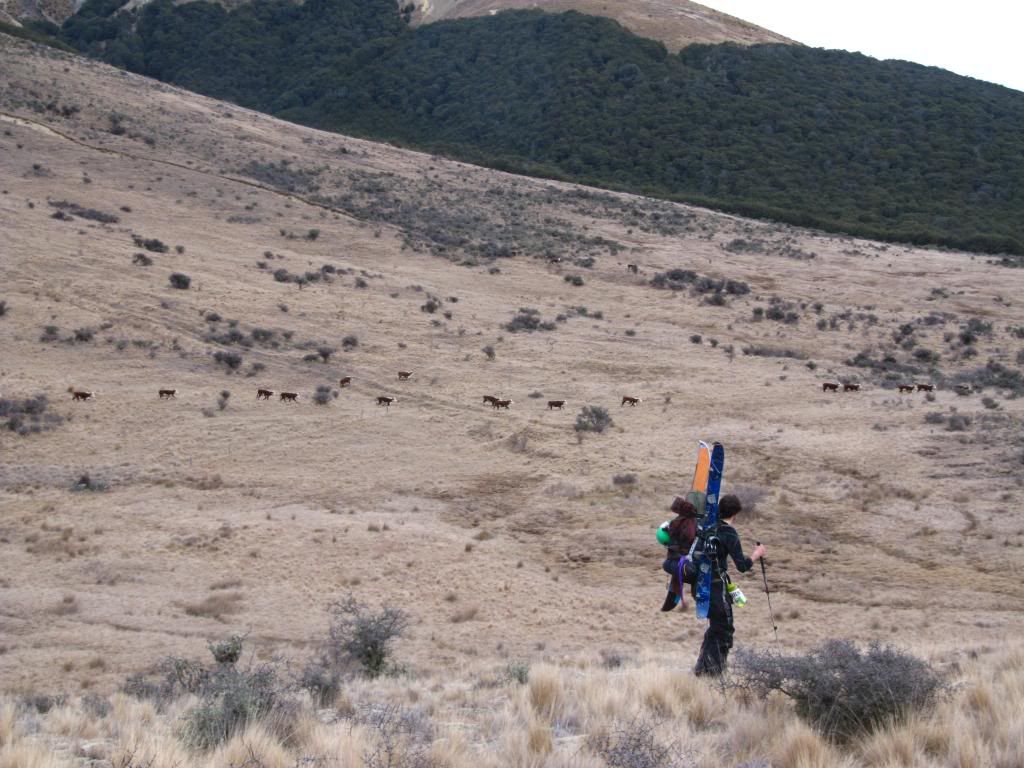 Camp site below Jane Peak

Isabelle skinning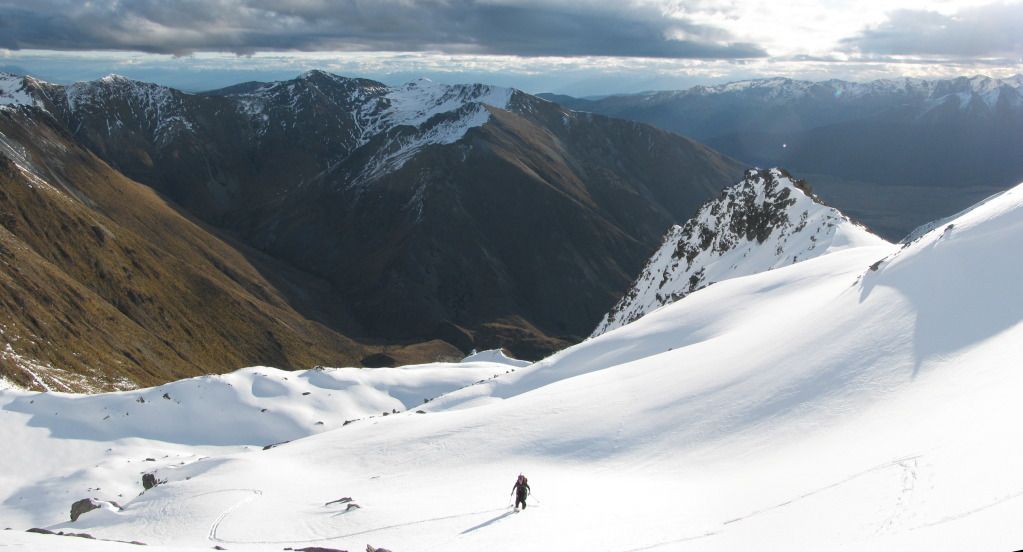 Isabelle shredding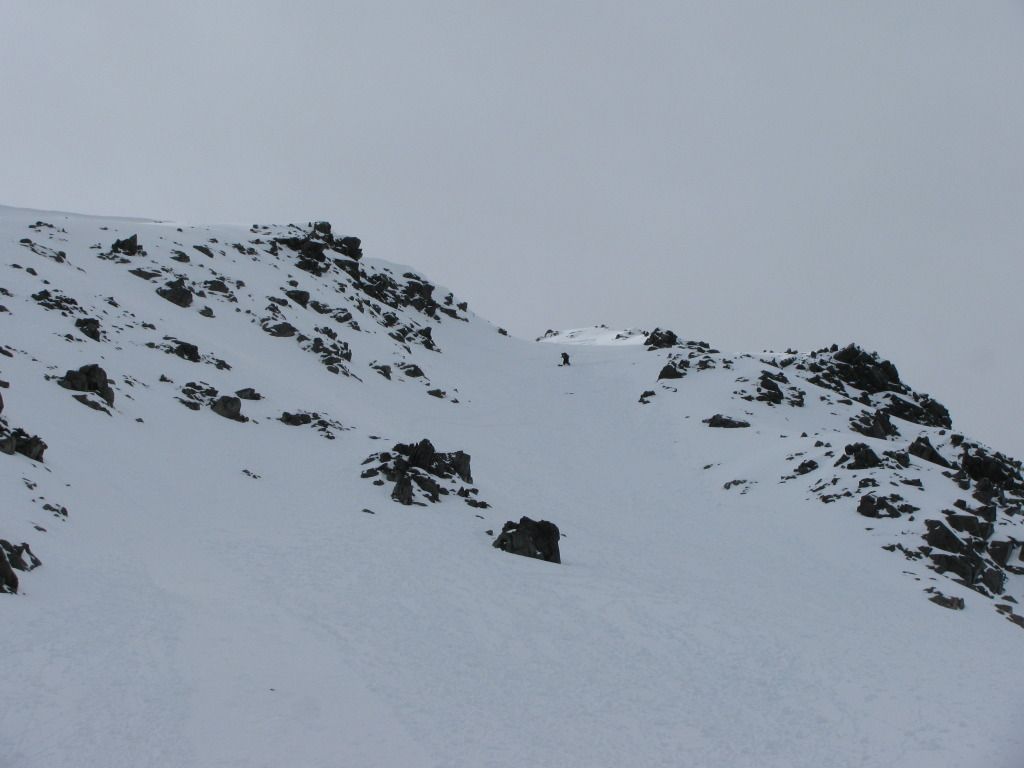 September 2012 – Fun times and also bigger and scarier stuff
September is splitfest month and all things and people splitboard related in the South Island converged at Temple Basin for a weekend of shenanigans, riding and general catch up between mates. During this weekend the yarn about whether year-round turns could be done had cropped up and I (stupidly or drunkenly or most likely both) accepted a challenge to give it a go..
Later in the month, Yossi managed to convince us to have a crack at riding the Low Peak of Mt Rolleston in Arthurs Pass. This would be the first time that any of us (with the exception of Yossi) had ever ridden bigger mountains with steeper slopes and exposure. Why not have a go?
Absolute concentration on the turns with axe at the ready in case of need to self arrest preceded by a lengthy lunch waiting for the snow to soften to ripe corn saw a successful mission.
Jase skinning up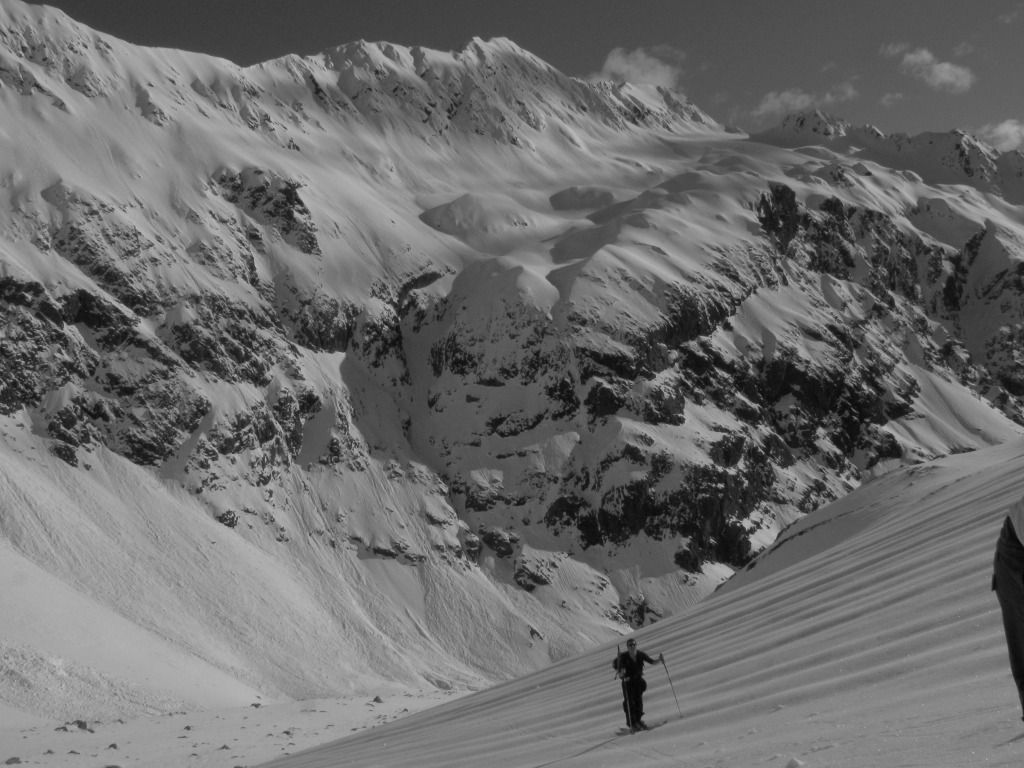 Booting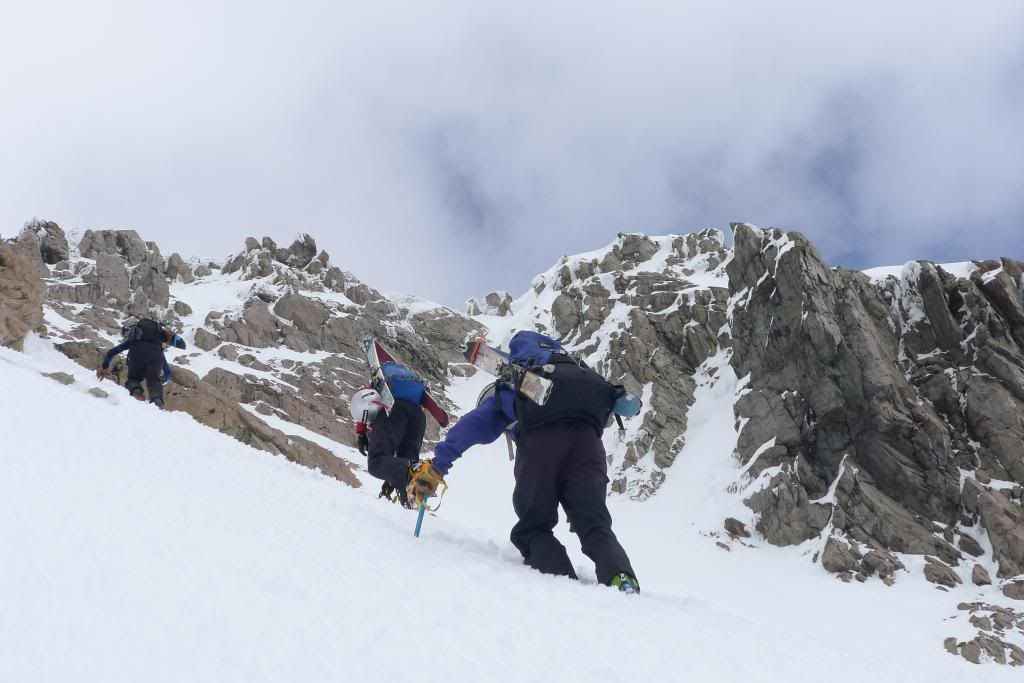 (Photo - Yossi Jagger)
Dropping in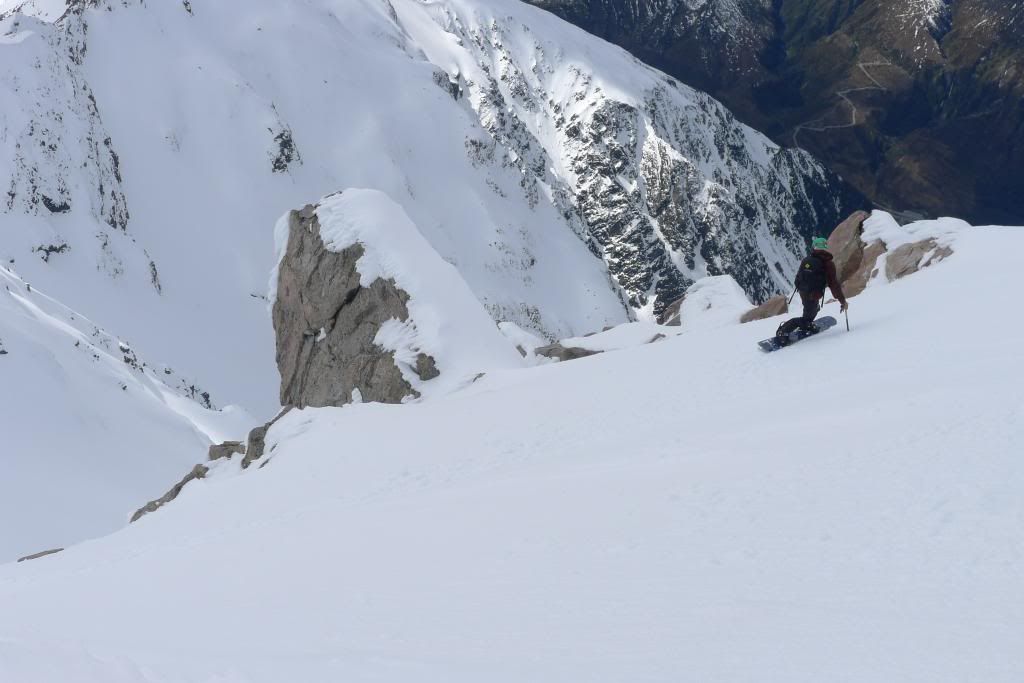 (Photo - Yossi Jagger)
The scary stuff over. Stoked!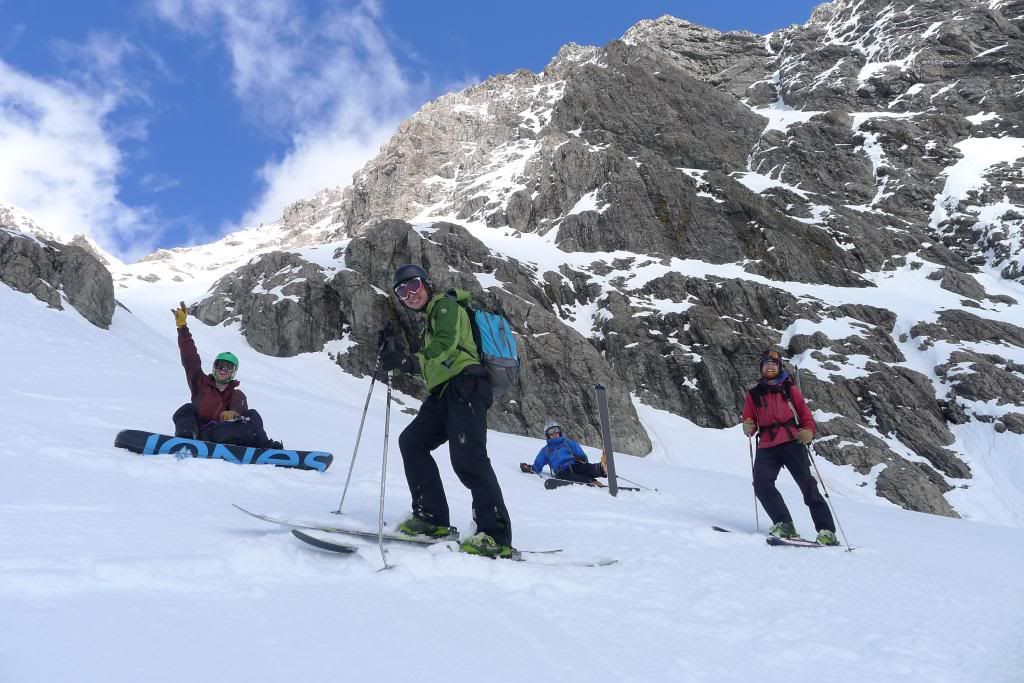 (Photo - Yossi Jagger)
October 2012 – The vast west coast neve's
Always scheming and looking for new places to check out, we rounded up the crew and headed over to the Coast for a trip up on the Franz Josef Neve staying at Almer hut. Glacier trips on a splitboard / touring skis is about the ultimate in terms of backcountry riding in New Zealand (IMO). Everything is huge and the terrain crazy. Recommended for sure. There is a trip report covering this mission over here
http://splitn2.com/chat/viewtopic.php?f=3&t=6
. Epic
Yossi scoring pow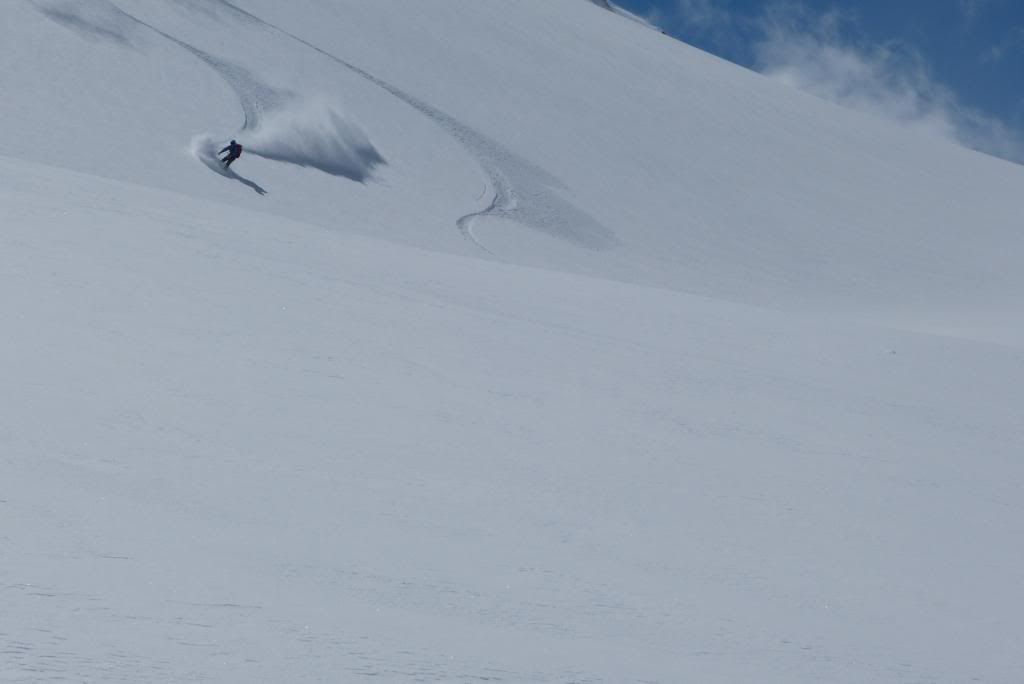 (Photo - Ben Scott)
Almer hut and the Franz Josef Neves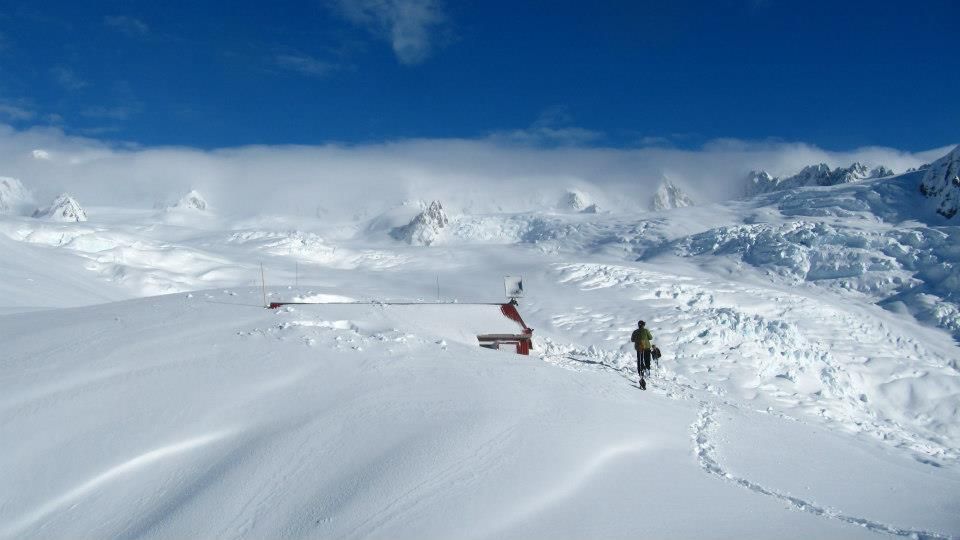 (Photo - Isabelle Desmaris)
Weather cut this trip short so we jumped back round to Arthurs Pass and based ourselves there for a couple of days riding when the weather permitted.
Scotty on the skin track, Craigieburn Range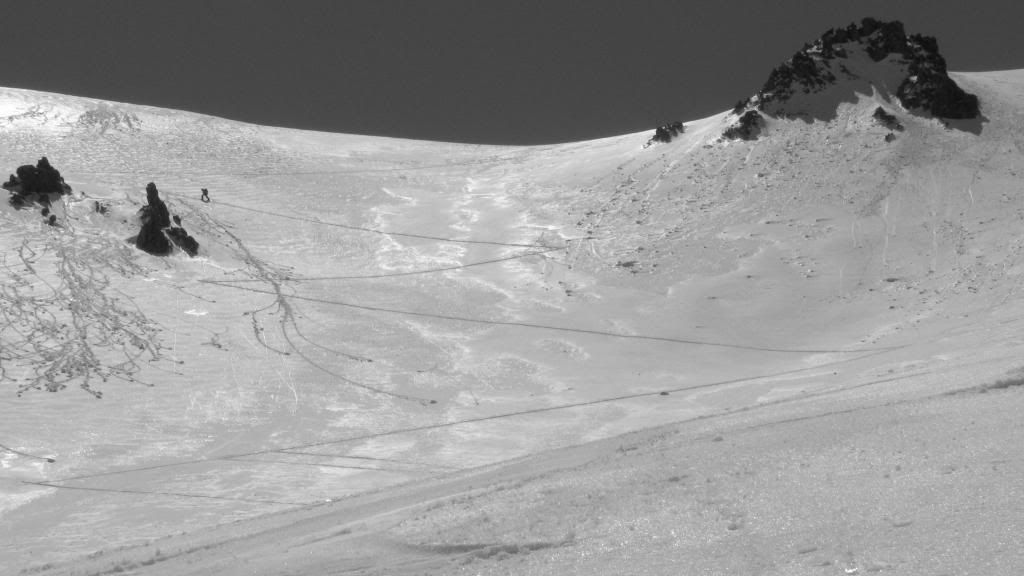 Isabelle ripping as usual. Spring slushies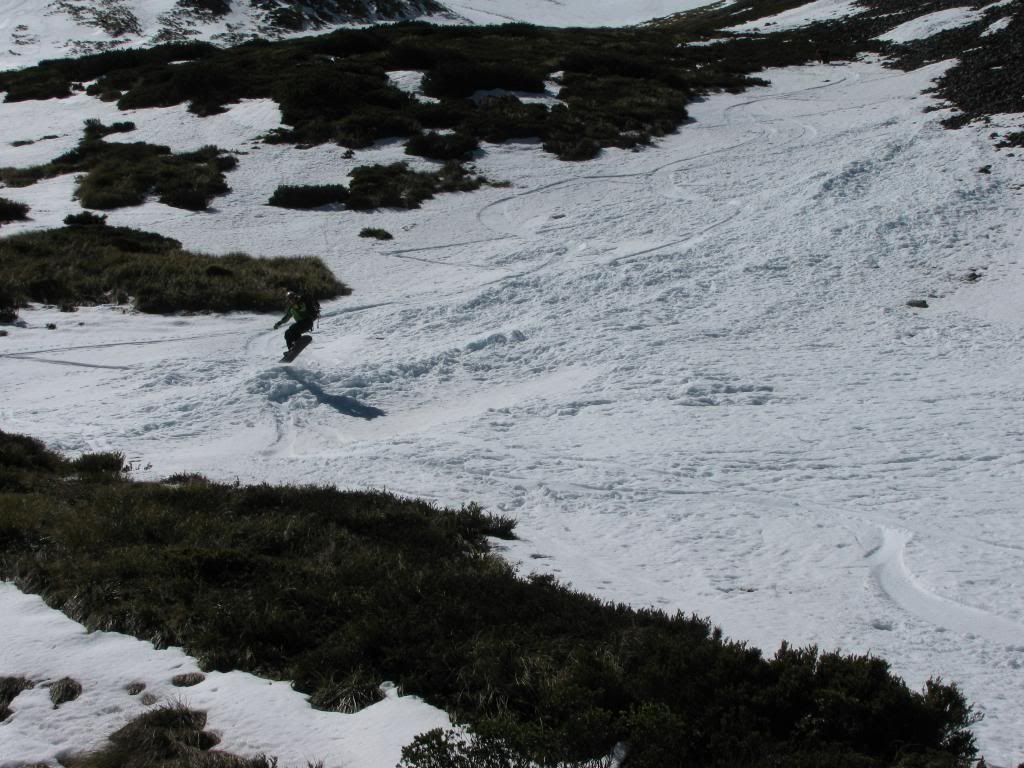 November 2012 – A favourite, late in the season
By now the snowpack was starting to get pretty thin and the snow line was retreating quickly. Chris was keen for a mission to ride peak 1912 (Black range – directly behind Craigieburn Ski field) before the season finished, so during the first weekend in November, off we went. Leaving the car at the Broken River skifield gate we headed over Hamilton Peak and down to the Cass Saddle hut where we stayed the night. The following day we hiked and skinned to the top of 1912 before riding fun corn down the SE face as far as the snow would let us. As a bonus we scored some windblown powder off Hamilton Peak on the way back to the car which was very unexpected but welcome!
1912 the weekend before..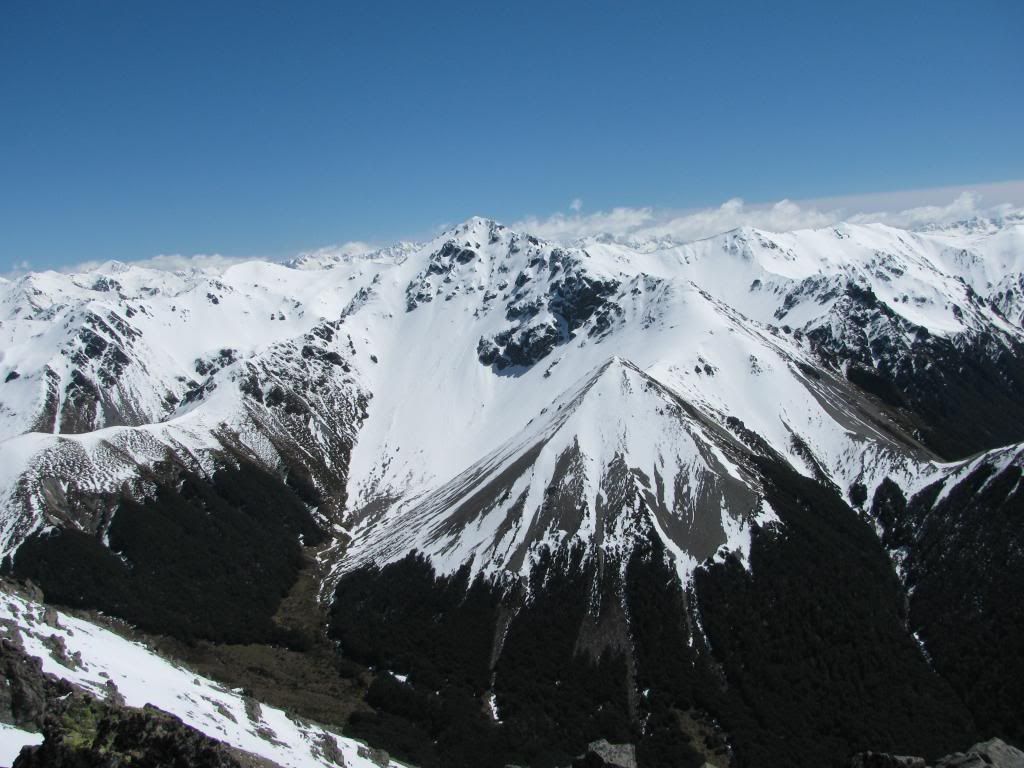 Chris at the Cass Saddle hut.
November, tick...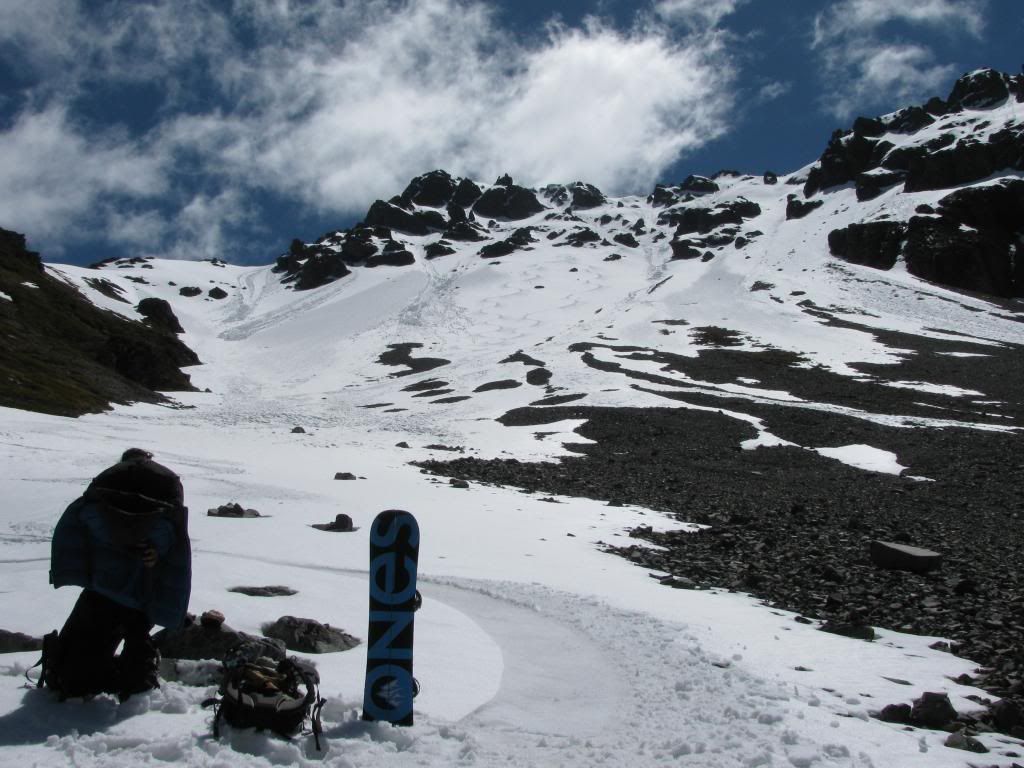 December 2012 – Follow the vein of snow
At this stage of the year, not only was the snow disappearing but also the need to wear ski pants while riding! Hoping to claim some final turns on the Cragieburn Range before the end of 2012, we headed up to Tarn Basin one hungover Saturday in December and had a couple of fun turns before wearily heading for the Springfield store. Milkshakes never tasted so good!
Shorts turns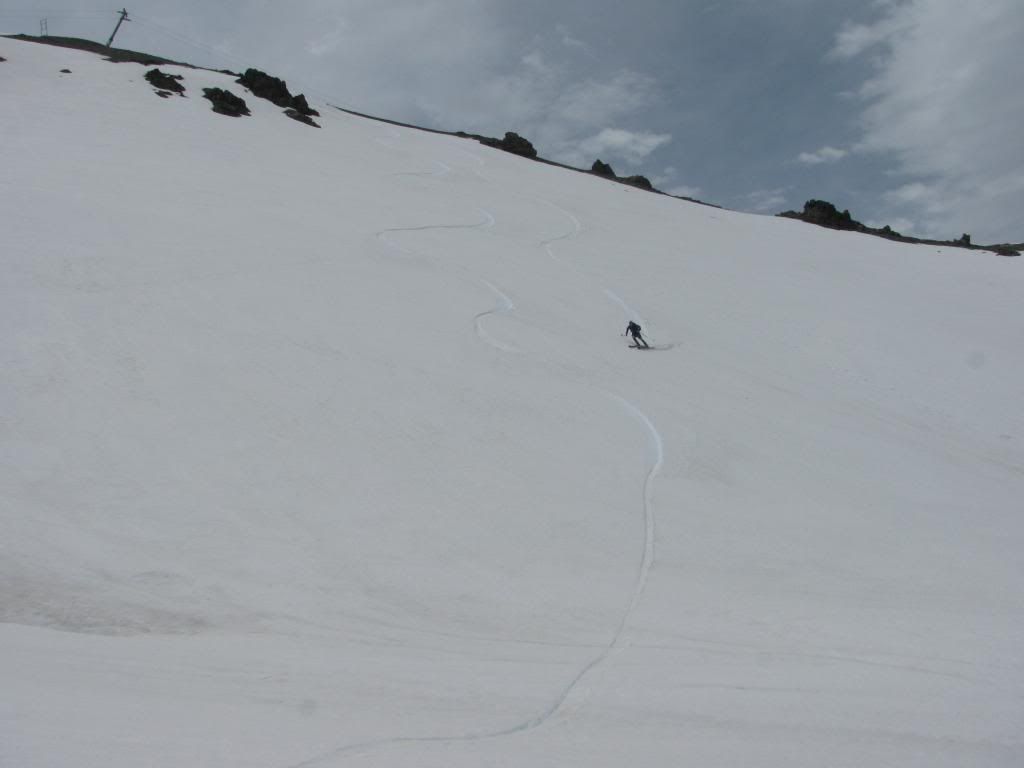 Touring in a warm Nor' wester
December turns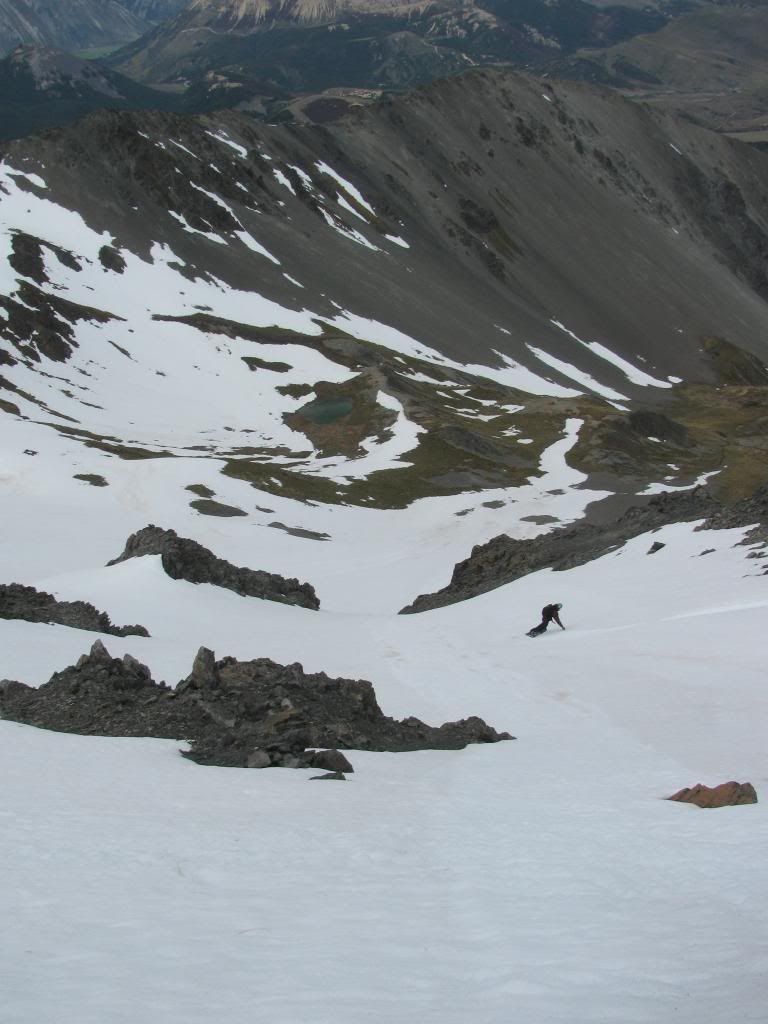 January 2013 – Summer pow?
By now, all the snow on the easily accessible ranges had disappeared but there was still 4 months of riding to go. Loads of topo map scouring and Google Earth searching began and wild ideas of potential lines were thrown around. Being based down South over the New Year period we decided to check out the Brewster Glacier region near Haast Pass. Crappy weather over the New Year period nearly scuttled our plans as it rained constantly for about 4 days straight and rivers went into flood. Finally a break in the weather appeared and the river levels dropped to a manageable height. Isabelle and I boosted over from Queenstown and climbed up to Brewster hut in the evening on January 4th and stayed at the Brewster hut. The following day we woke to amazing alpine glow on Mt Brewster and powder snow! Crazy January powder....
Alpine glow on Mt Brewster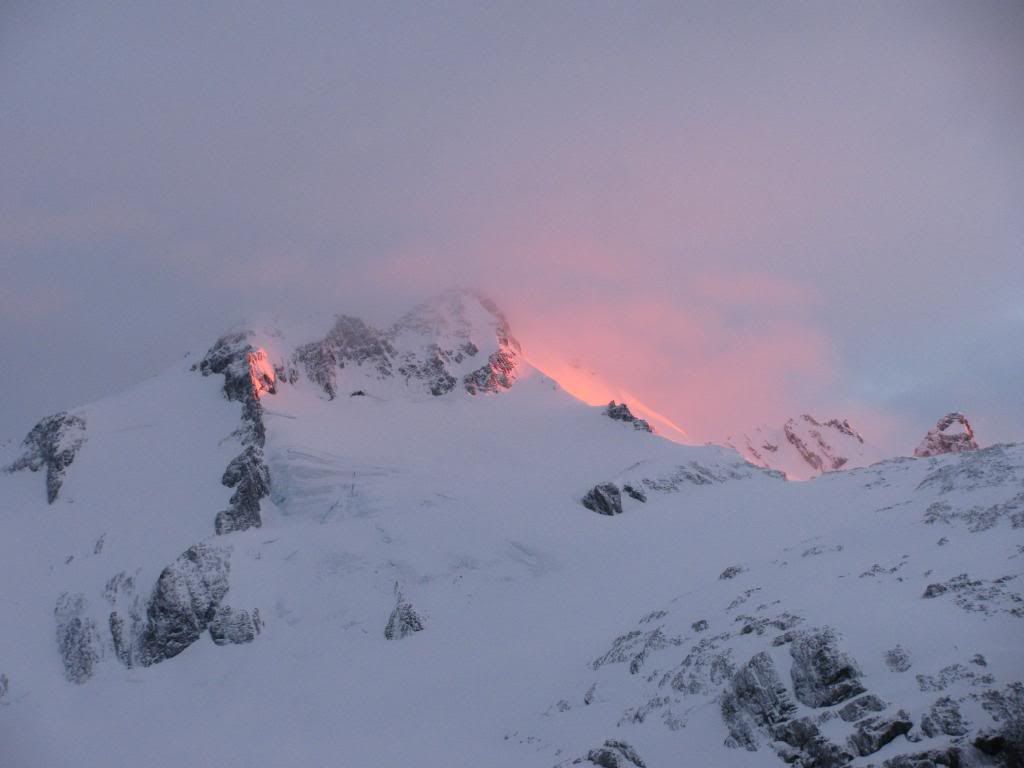 Pow turns in Jun...I mean January? Isabelle ripping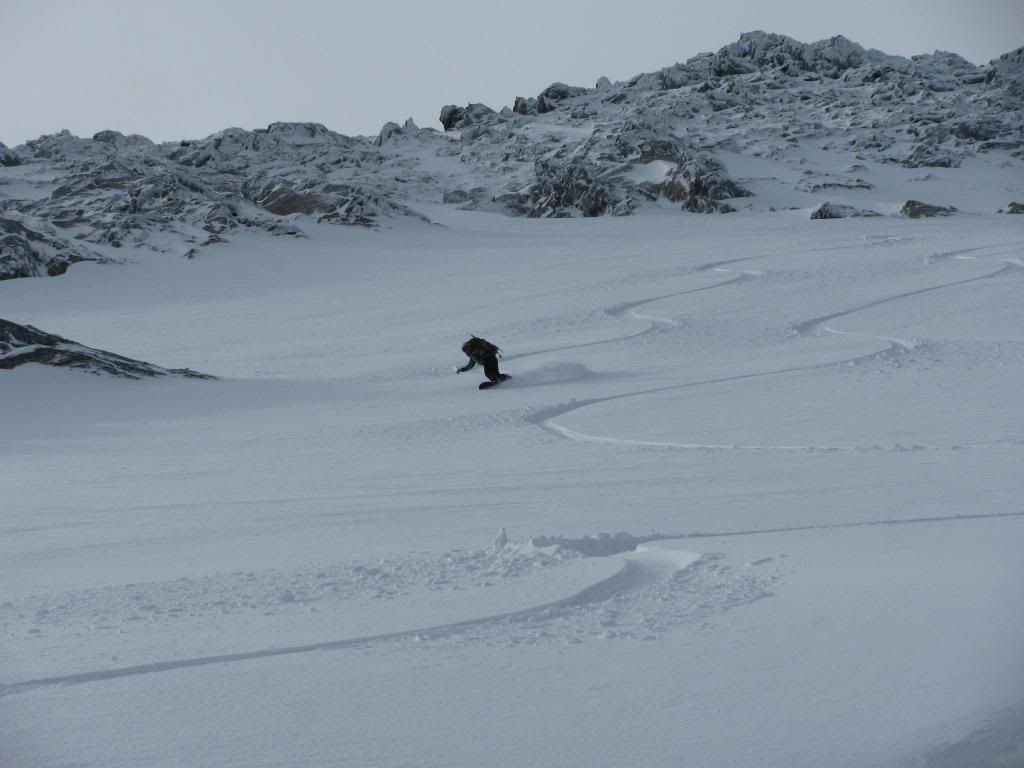 Tracks on to the glacier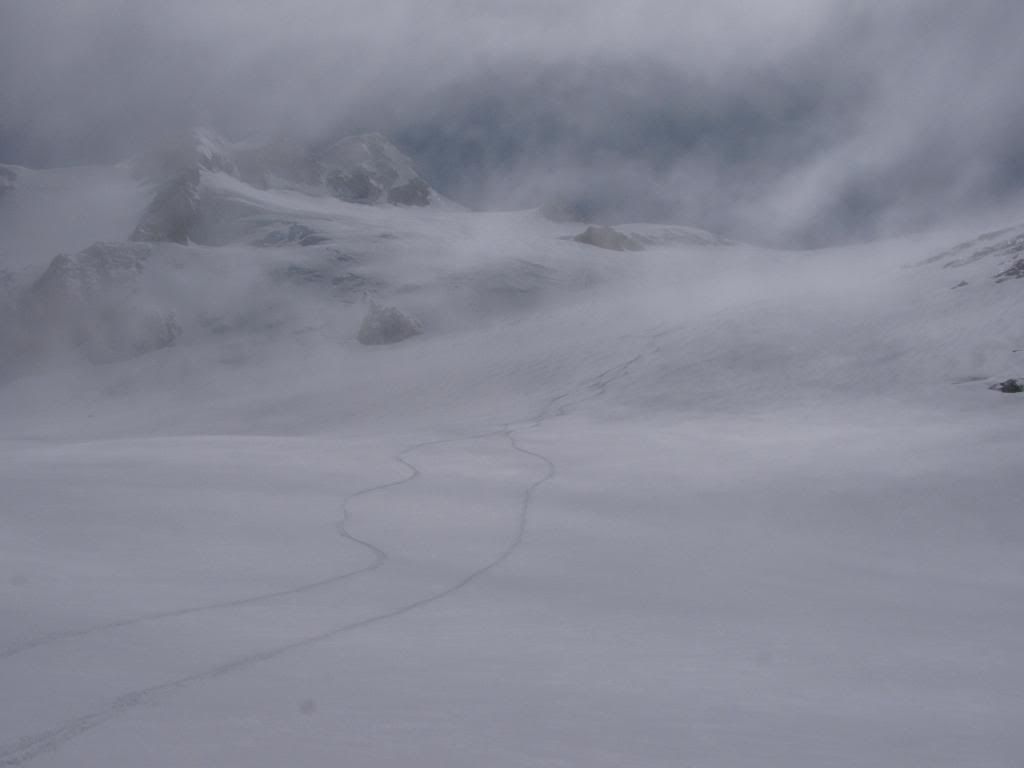 After some laps on the South ridge below Mt Brewster, the snow started to heat up so we headed back to the hut for some food and walked back to the car as Isabelle had work the following day.
Heading back down the track to the car
Check out Isabelles own trip report about this mission over here
http://splitn2.com/chat/viewtopic.php?f=3&t=16
February 2013 – The glacier turns
With zero snow on the forecast (in fact no weather of any kind except sun and heat), we decided to go snowboarding and skiing on the Cameron Glacier in the Arrowsmith Range. With only a weekend to do it in, we scurried up to Cameron Hut late Friday night after work, slept and got up early to make our way on to the glacier. Unfortunately, the route normally taken in winter to get on to the glacier is not that great in summer and we spent precious hours getting bluffed. After a few extra hours of additional walking we finally accessed the glacier and skinned up towards Groove Col. We transitioned and rode some super fun corn down to the moraine on the glacier. Lots of slot hoping was involved which added to the fun.
The locals wondering what the hell we are up to?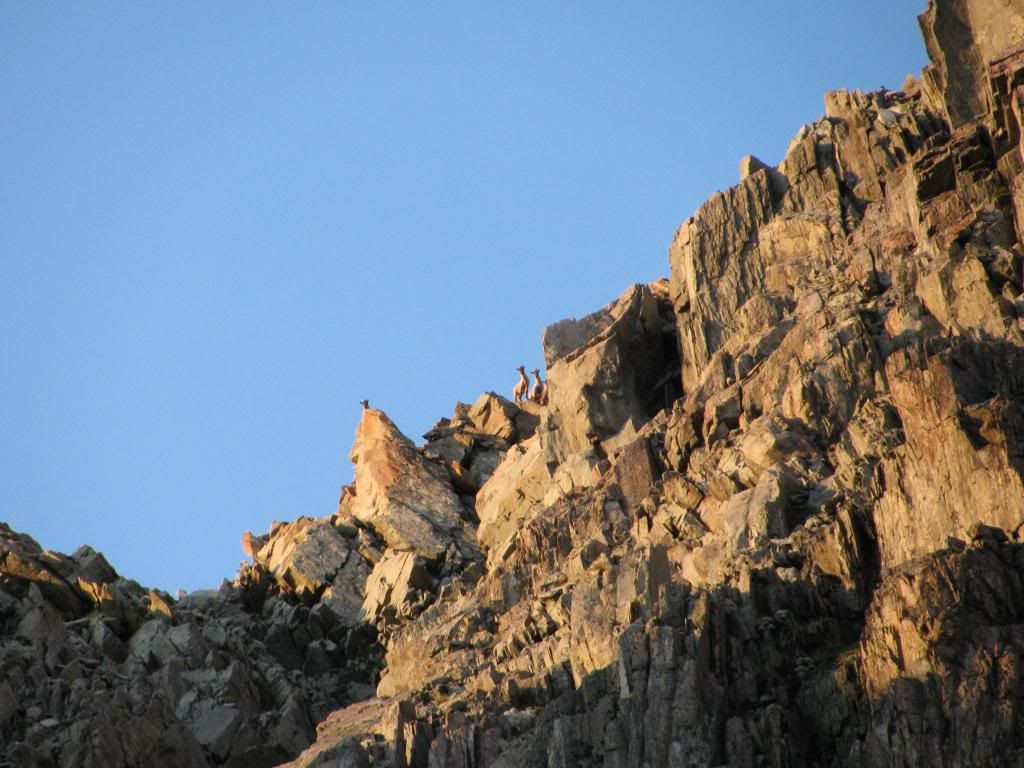 Skinning up the Cameron glacier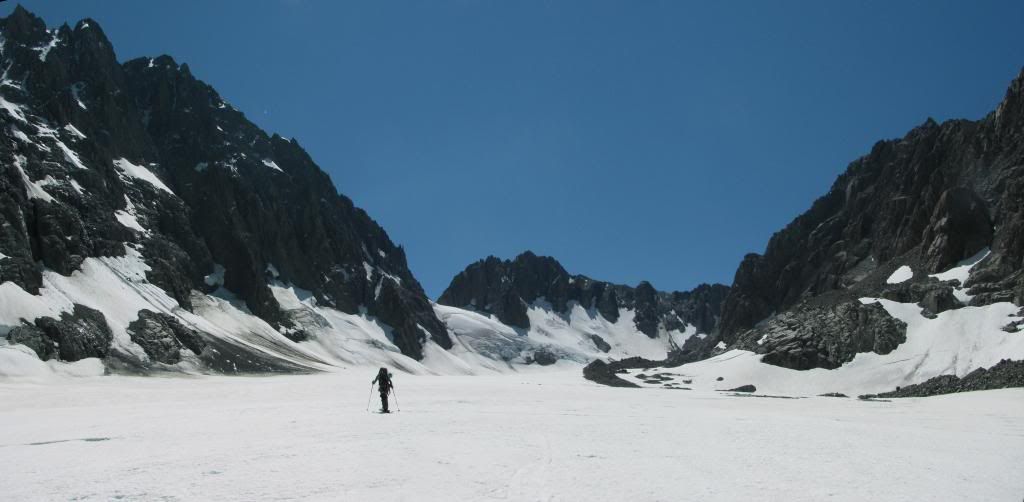 Scotty charging through the ice fall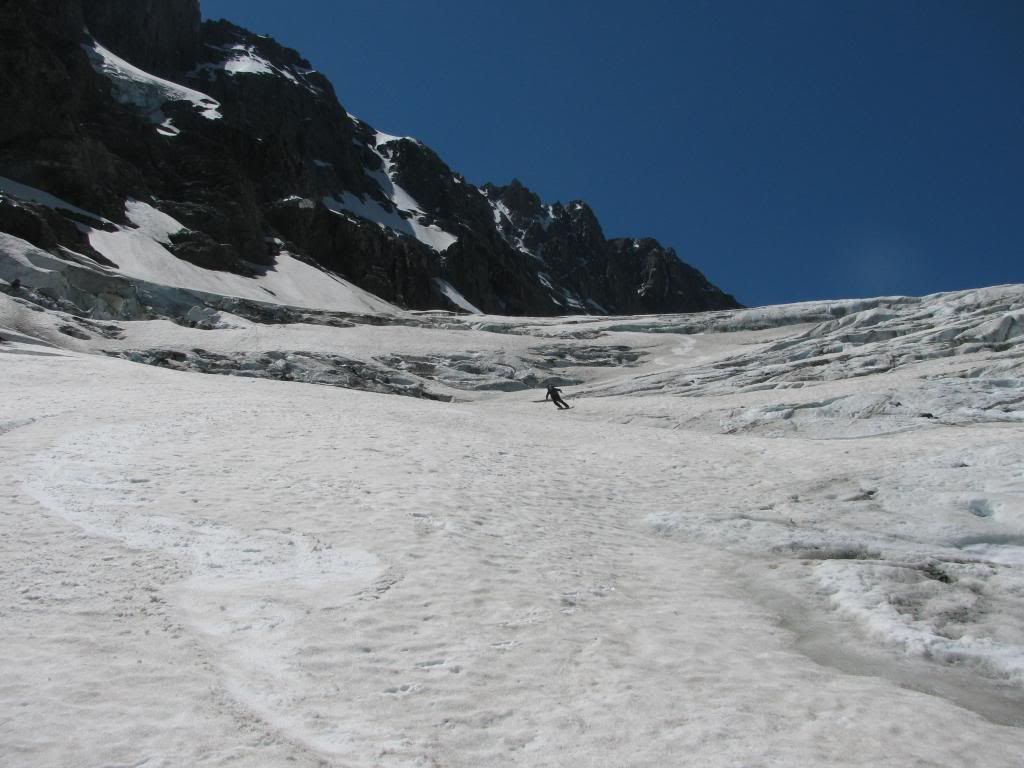 Walking back to the hut after a long day..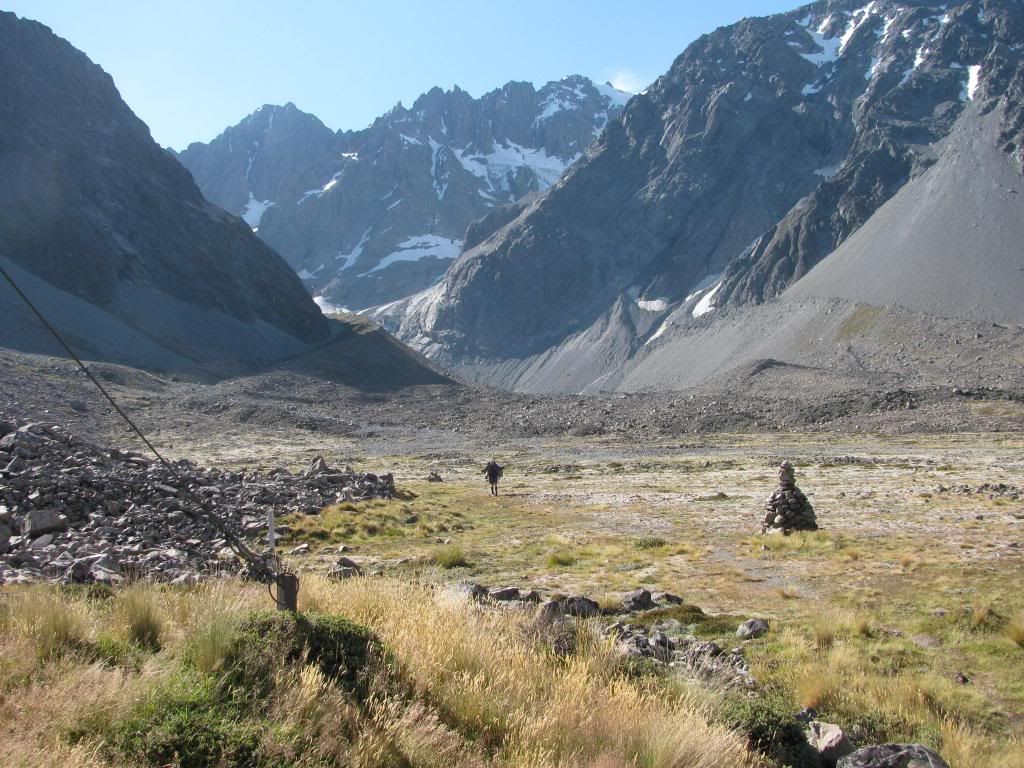 Back at the hut, we read in the hut book about the likes of Rauri MacFarlane and Nick Sutcliffe riding big lines off the peaks around the hut in late winter and spring. Inspiring stuff that just may have convinced us to head back there in winter after the memories of walking in carrying all our gear have faded. Very cool spot.
March 2013 – How far do we have to walk again?
Just 2 months to go! The ridiculous mission of riding 12 months in NZ was starting to look doable....however, in the spirit of checking out new zones, we set out on a three day mission up to the White Glacier at the head waters of the Waimakariri River. A very long walk up the Waimakariri River got us to Barker hut where we stayed the night before heading up to the White Glacier the following day. After an interesting walk from the hut involving Scotty and Chris pitching a section of rock in ski boots by head lamp, we managed to get to Kahutea Col. Once again, we had some fun hopping over slots and navigating through the larger ones as we rode down the glacier. We popped back up part way and had a short 2nd lap before walking back to Barker Hut to collect our gear. From Barker we then headed out to Carrington hut for the night and then walked out to the car the following day.
Barker hut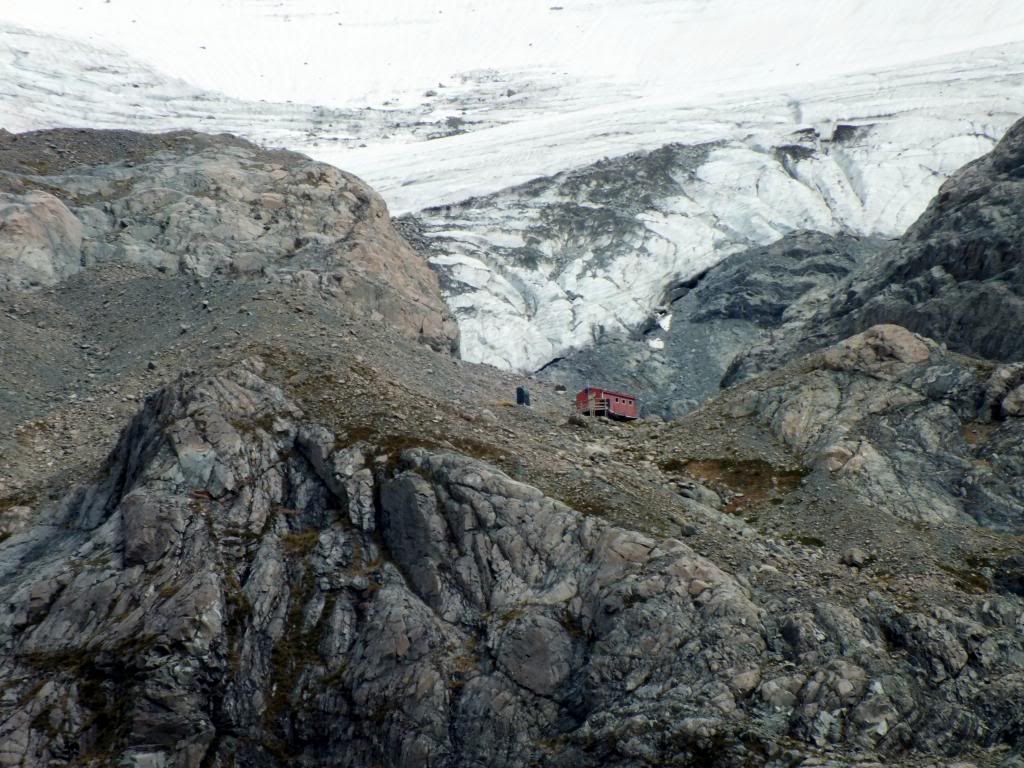 (Photo - Hamish Cumming)
Chris negotiating crevasses on the way up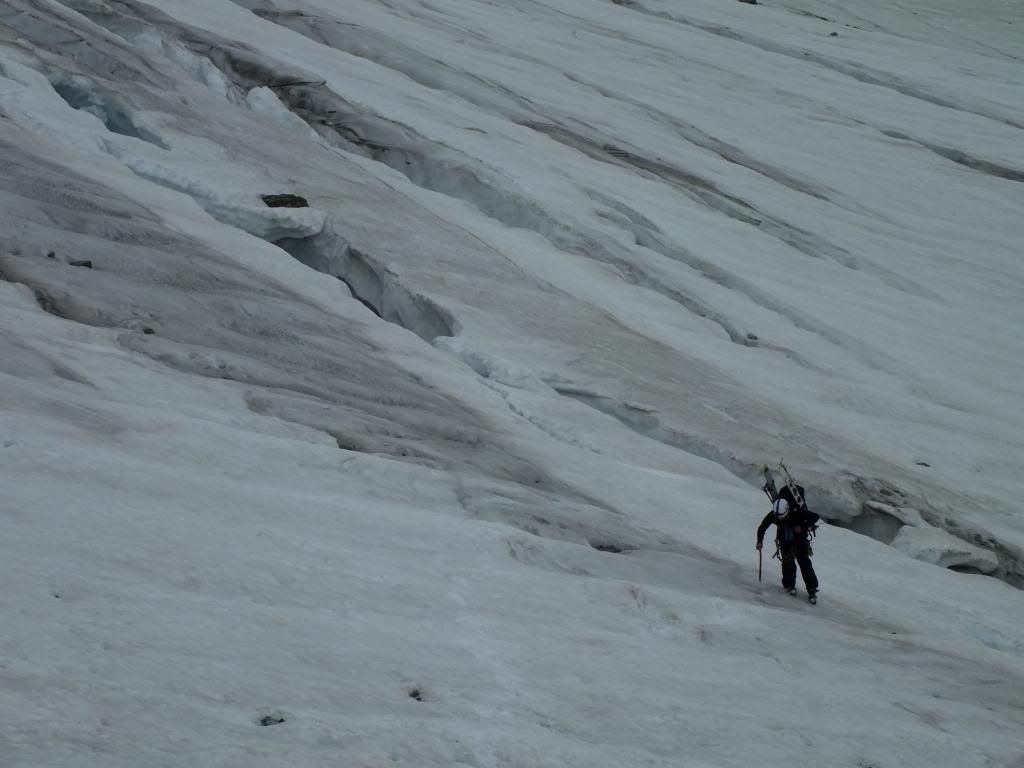 (Photo - Hamish Cumming)
Chris negotiating crevasses on the way down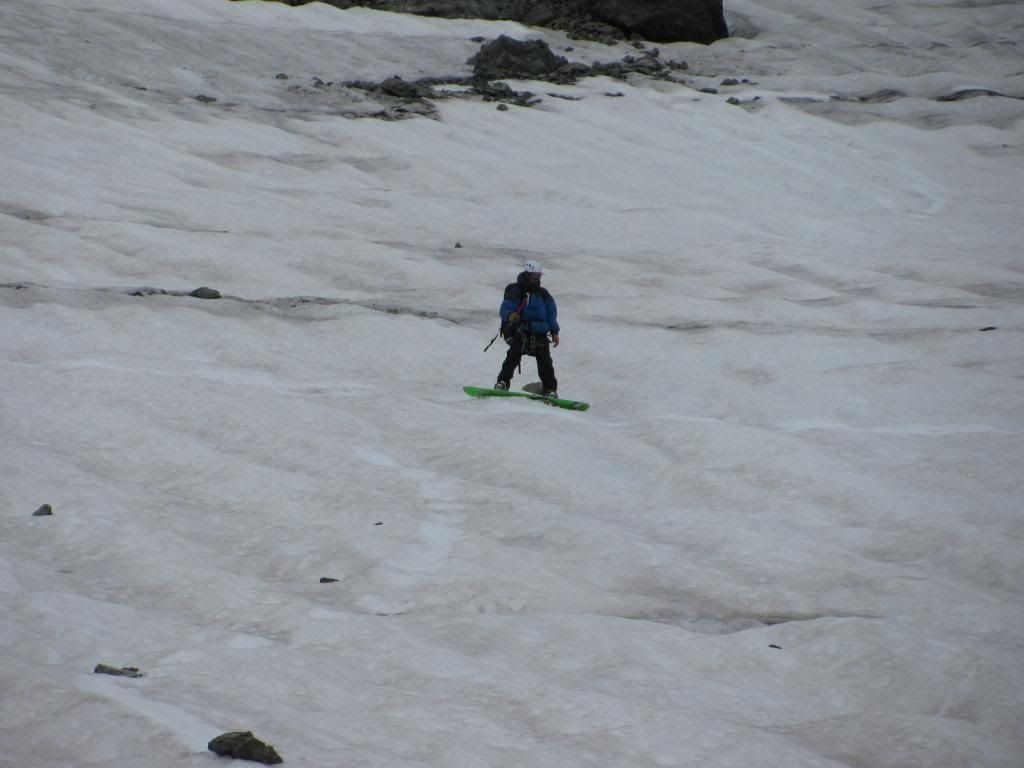 Scotty through the runnels and rocks
(Photo - Hamish Cumming)
To be honest there wasn't a heck of a lot of riding involved but there was lots of this....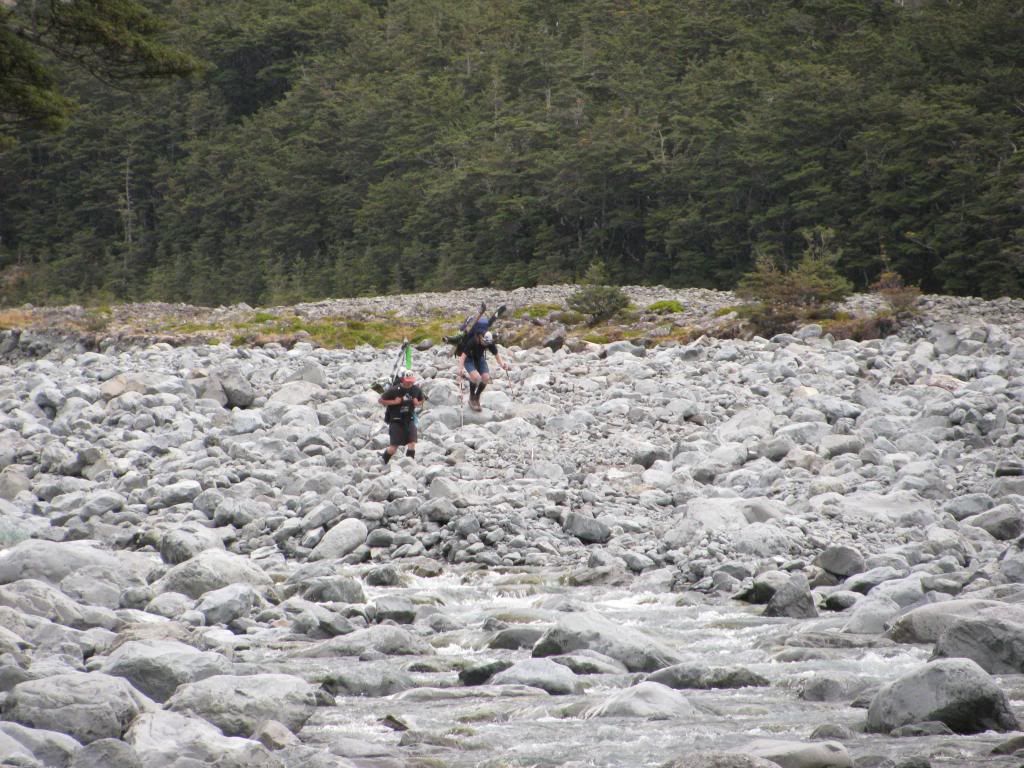 and this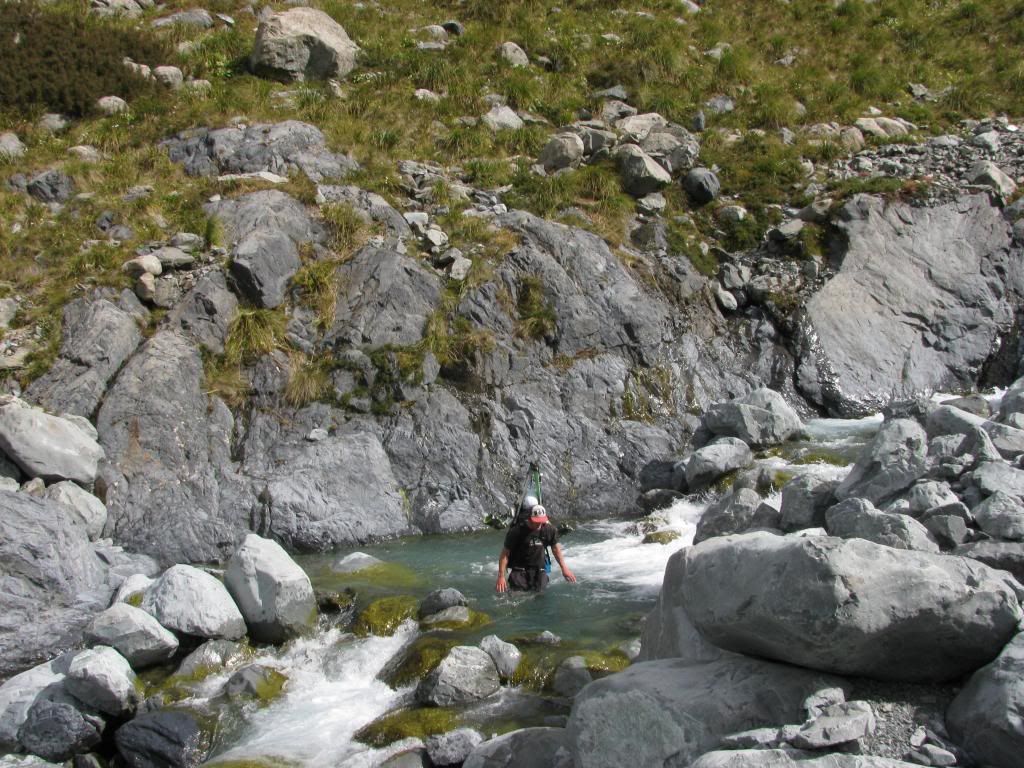 Chris later worked out we travelled around 45 km so I think the riding / walking ratio was slightly more weighted toward the walking side of things. Summer riding was starting to seem like glorified tramping while carrying snowboards and skis....
Again this is an amazing place and would be crazy good in winter, however it's likely that the approach to Barker hut would probably be extremely dodgy as the track up the White River could act as a nasty terrain trap. Spring would be an even better but personally I need to forget what the walk in was like before heading back there!
April 2013 – Last one right!?
April 2013 rolled round and with it the last mission to tick off for a year of riding. For this mission we decided to check out the Sealy Range in the Mt Cook region, basing ourselves at Mueller hut. So Friday after work, we jumped down to Mt Cook and walked up to the hut. A short sleep followed by a walk along the scree and moraine saw us on to the Annette Plateau. Amazing views of Mt Sefton, Footstool and Mt Cook provided the back drop as we lapped up turns on the Annette.
Super excited about the walk up to Mueller hut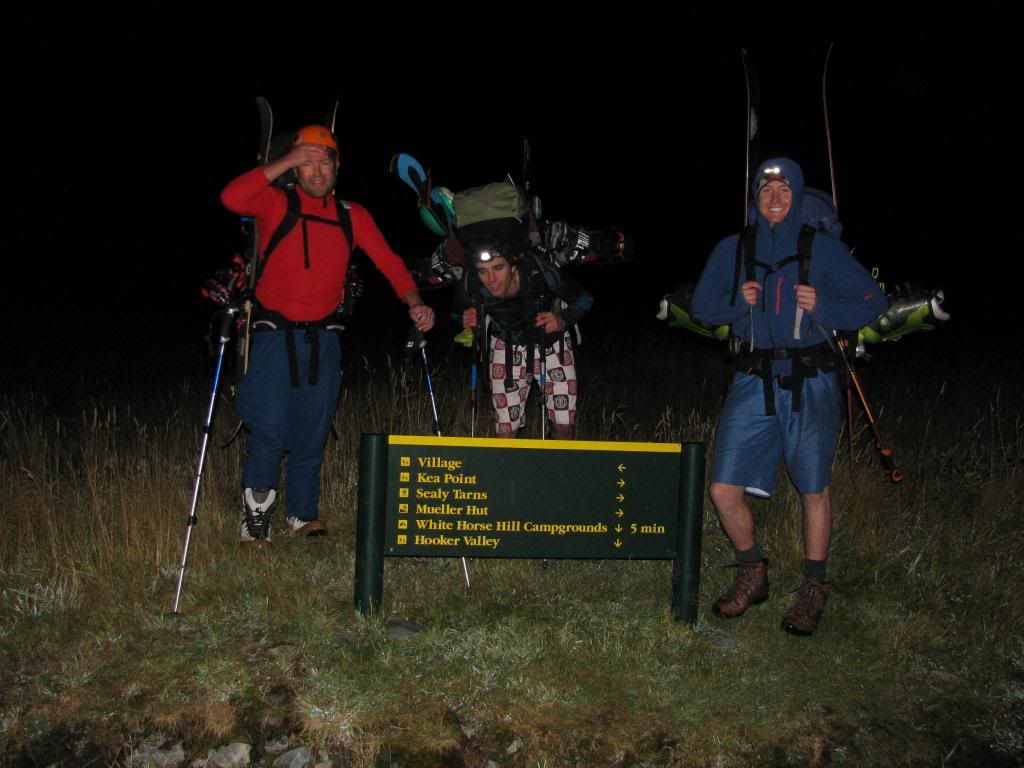 Skinning on the Annette Plateau. Mt Sefton (3157 m) centre and Mt Cook (3764 m) far right.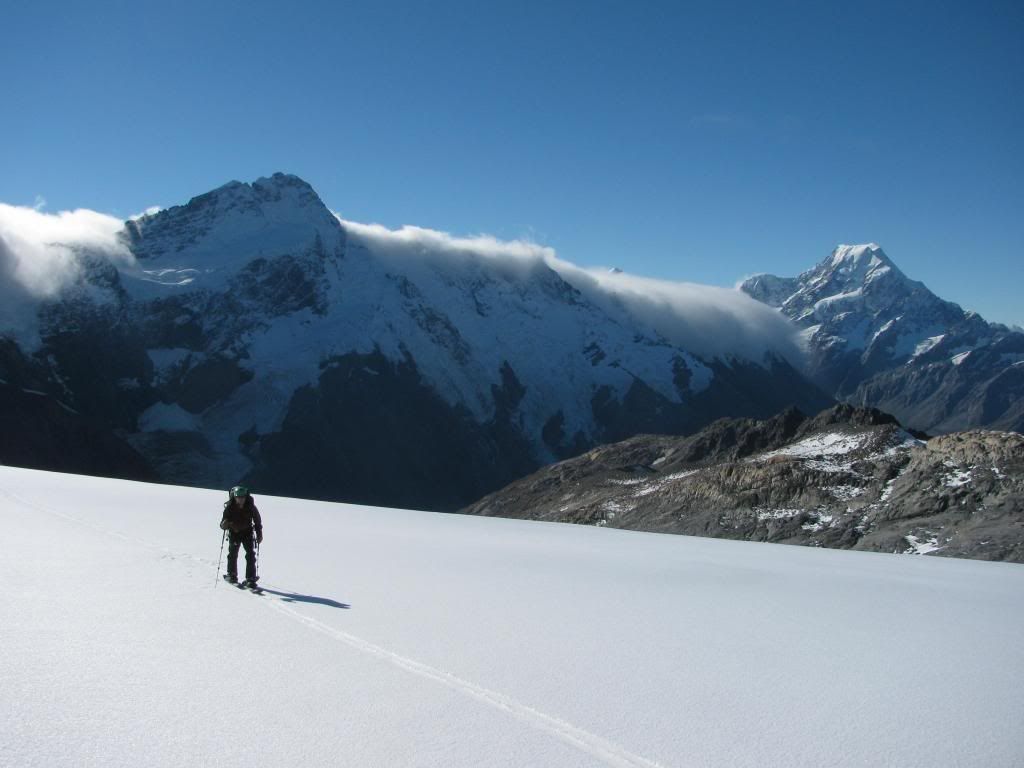 Turns on the Annette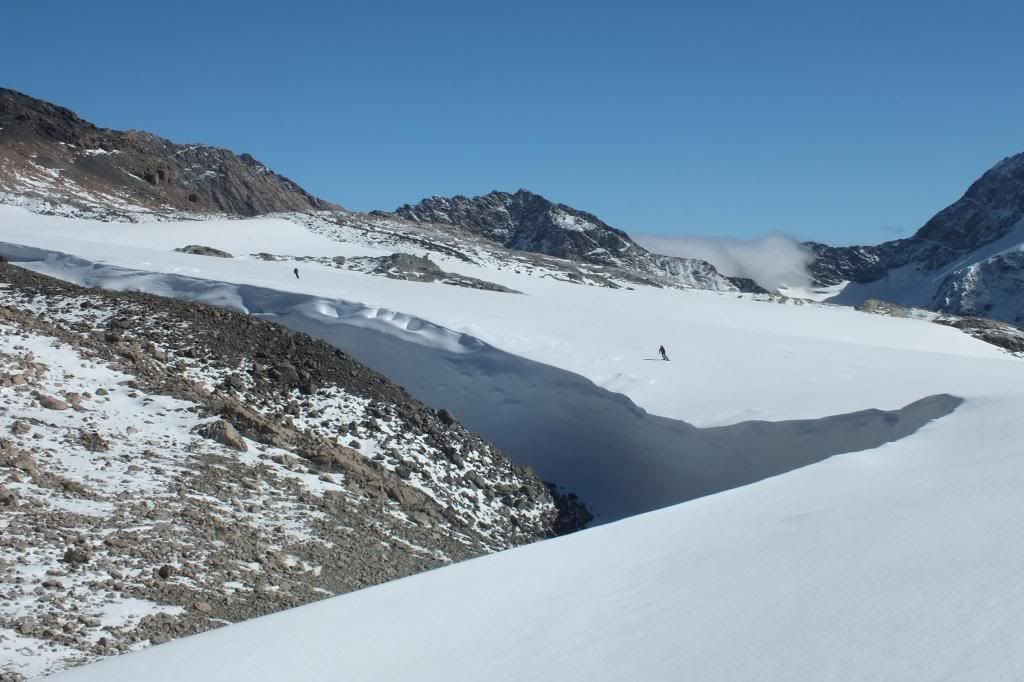 Rich Harcourt scoring some April turns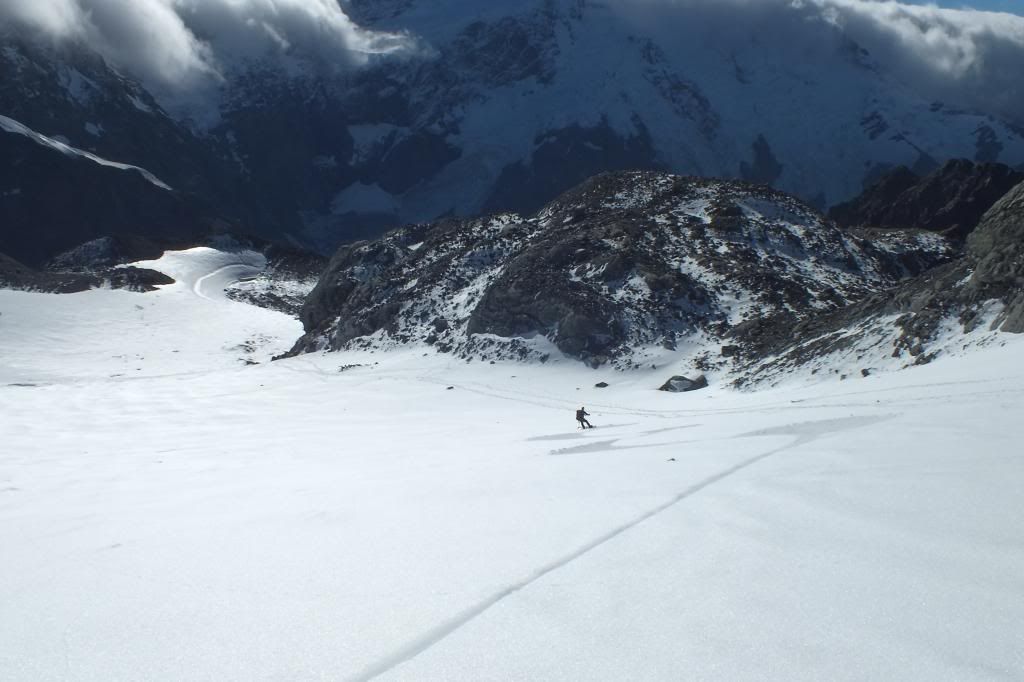 After 12 months of riding you think we would at least look like we know what we are doing. Obviously not...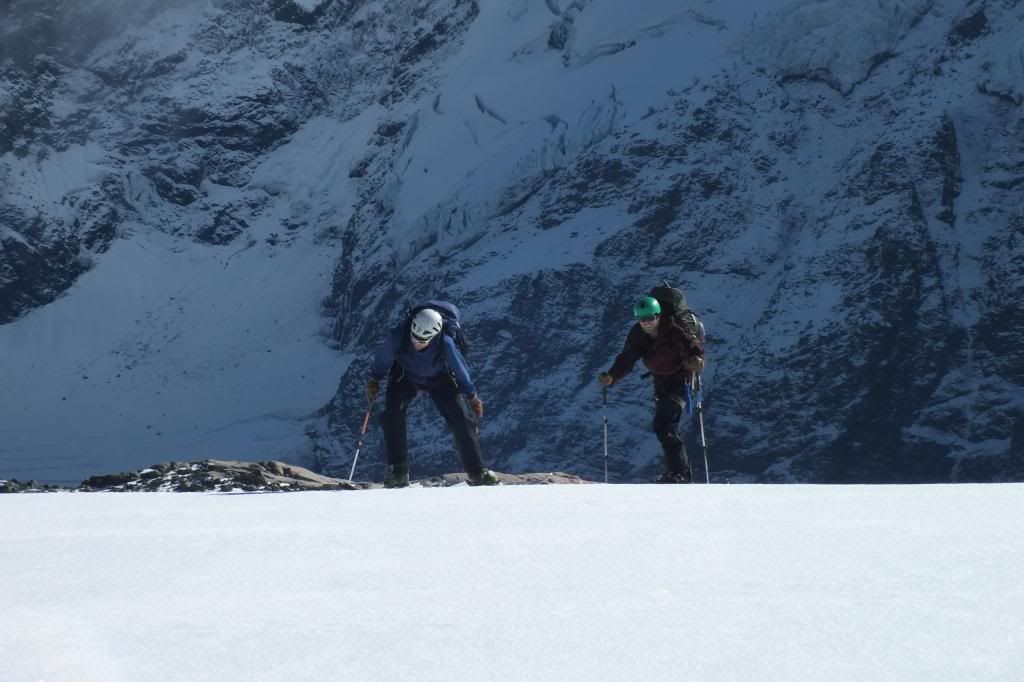 With a lower snow line, access to and from the Mueller hut and the Annette Plateau and the surrounding areas would be comparatively easy (compared to boulder hopping with a board on your back!). Funny how all these places would be better for riding in winter......
After some turns on the glacier we headed back to Mueller hut for the night and wearily made our way down to the car the following day. Some high fives were had...
Leaving Mueller hut and beginning the walk back to the car.

Mission accomplished. 12 consecutive months of riding along with all the exciting places we checked out has led me to the following conclusion: SNOWBOARDING IS BETTER IN WINTER (duh!). Haha. I'm a bit of a slow learner.....
Also, thanks to everyone who I went riding with me during the last 12 months. You know who you are. Your patience and willingness to share these crazy adventures with me is greatly appreciated. It wasn't possible without any of you. Cheers.
Anyway, enough of that. On to winter 2013, colder temperatures and a much, much lower snow line...